Halloween is one of the most exciting holidays of the year. It's the time when little ones get all dressed up and set off trick-or-treating, hoping to head home with a big haul of candy. But why should adults miss out on all the fun? Grown-ups can have their own more mature Halloween experience, and one of the best ways to start the party is with cannabis candy!
It's surprisingly easy to make candy edibles, and there are lots of different THC candy recipes to try out. Of course, it's important to make sure that you live in an area where this is legally allowed and always consume cannabis responsibly, even in edible candy form. With that said, let's take a look at how to make your own THC lollipops and cannabis infused candy.
Understanding Cannabis Infusion
Before we look at how to make THC hard candy or the specific steps to make candies with THC and CBD benefits, it's important to understand the basics of cannabis infusion. Cannabis infusion is basically a process in which you soak cannabis in a suitable liquid or substance, like tinctures and oils, to allow the cannabinoids and terpenes to slowly seep out into the mixture.
This is an essential step when making most kinds of homemade cannabis edibles, from edible lollipops to brownies, cookies, and more. An infused cannabis tincture is a super base ingredient to use in your recipes, for example. Cannabis butter is another great infusion to make, and you can follow a cannabis butter recipe to get started and then use that butter in other recipes.
Like with most things cannabis-related, dosage and strain choice are very important when it comes to infusion. It's vital to work out the appropriate dosage for a safe, enjoyable experience. You can also play around with different strains of cannabis, with varying levels of THC and other cannabinoids, to produce different effects in your cannabis candy, like relaxation, euphoria, etc.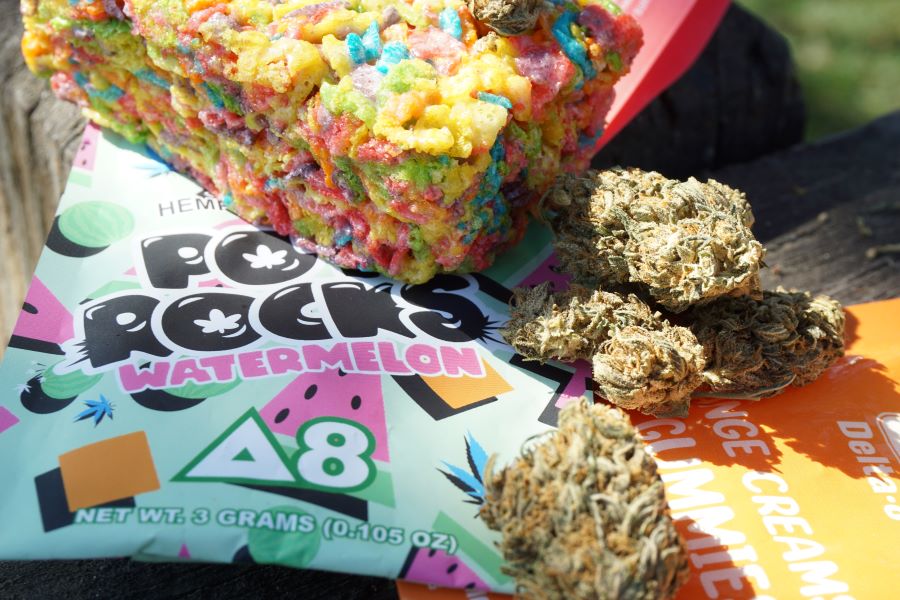 What Is THC Candy?
So, what exactly are cannabis candy edibles? Well, as the name implies, THC candy or marijuana candy is a candy that has been infused with cannabis in some way. Typically, it's made with the aid of cannabis tincture or oil, which you can either make on your own via infusion or purchase from a local Torrance cannabis dispensary.
Candies with THC are able to produce certain effects upon consumption. They can help people feel more relaxed, happier, euphoric, and so on, just like other kinds of edibles. Many people enjoy edible candy, as it's a more fun and comfortable alternative to smoking joints or vaping cannabis.
Cannabis Candy Recipes for Halloween
Next, let's take a look at some fun recipes you can try to create your very own canna candy. Remember, before you begin, you'll need to assemble the ingredients, including a desired cannabis strain. You'll also need to go through the process of marijuana decarboxylation (heating your marijuana) to activate it and then infuse it to make an oil, butter, or tincture, ready to add to your recipe. Contact us for more info if you're unsure about any stage of the process.
Hard Candy and Weed Lollipops Recipe
Ingredients:
Cannabis tincture
1 cup of sugar
1/4 cup of water
1/2 cup of light corn syrup
1 and ½ teaspoon of flavoring extract
Some food coloring
A candy thermometer
Candy or lollipop molds and/or sticks
Directions:
First, spray your candy molds with a non-stick spray.
Next, in a saucepan, mix the syrup, sugar, and water over medium-high heat.
Stir until the sugar has dissolved.
Use your candy thermometer to track the temperature and remove the pan when it gets to 300 degrees.
Let it sit for a moment to stop bubbling, then add your coloring and cannabis tincture.
Spoon the mix into the molds and let it cool.
Homemade Edible Gummies for Halloween
Ingredients:
1 gram of cannabis extract
3oz of flavored gelatin
2ml of high-proof alcohol
2g of unflavored gelatin
⅓ cup of water
¼ cup of corn syrup
¼ teaspoon of citric acid
Gummy molds
Directions:
Dissolve the extract in the alcohol.
Mix the dry ingredients in a bowl.
Mix in the water and syrup.
Microwave the bowl of ingredients for 30 seconds.
Add in the alcohol mix.
Microwave for two more minutes and stir every 15 seconds.
Let it cool for 15 minutes, stirring every now and then.
Spray your molds with non-stick spray, then pour in the mixture and let it set in the fridge for an hour.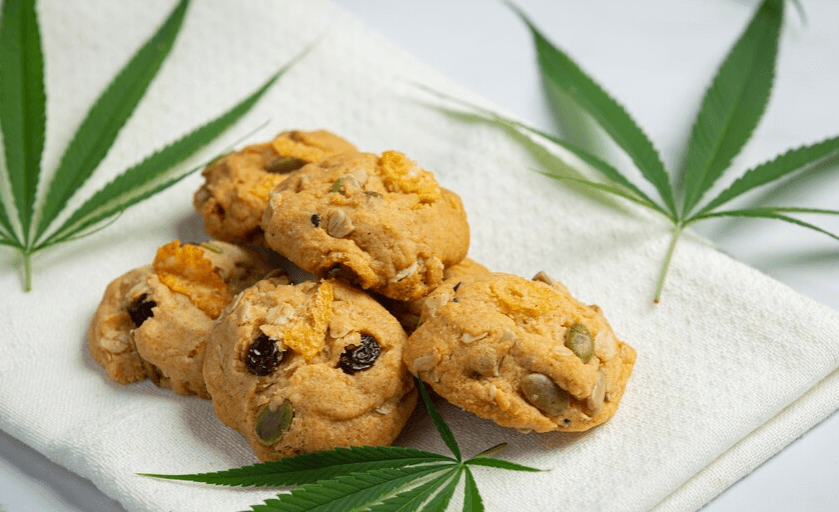 Cannabis-Infused Nerd Candies
Ingredients:
¼ cup water
3oz lime Jello
½ cup of water
¼ cup corn syrup
½ tsp sunflower lecithin
¼ cup canna-coconut oil
Large sheet of parchment paper
Directions:
Dissolve syrup in 1/2 cup of water.
Mix in the Jello and heat on medium until it boils.
Lower the heat and let it simmer.
Stir in the lecithin.
Add your cannabis oil.
Pour the mix into candy rope molds.
Cannabis Cotton Candy
Ingredients:
1 cup sugar
100mg cannabis extract
Parchment paper
Cotton candy machine
Directions:
Mix the sugar and cannabis extract in a bowl
Spread the mixture onto some parchment paper and chop it into little lines.
Let it dry out overnight, or in the oven for an hour.
Spoon some of the sugar mix into your cotton candy machine to make cannabis cotton candy.
Cannabis-Infused Chocolate Truffles
Ingredients:
4 cups chocolate chips
2-4 tbsp of cannabis sugar
1 cup of hot cocoa powder
Directions:
Melt the chocolate chips.
Mix in the cannabis sugar.
Fill chocolate molds with the melted chocolate.
Put them in the freezer for 20 minutes to set.
Add cocoa mix into each shell.
Finish off with another layer of melted chocolate.
Freeze again for 20 minutes.
Drop your truffles into hot milk to watch them explode and create cannabis cocoa.
Setting the Scene: A Cannabis Halloween Gathering
Creating cannabis candies and other treats is just one part of a cannabis Halloween experience. You can host a whole party with cannabis-loving friends, decorating your home with a mixture of spooky and cannabis-themed décor and having other edibles for people to try. You could even try dressing up in cannabis-style outfits or playing cannabis-themed games.
Overall, it's surprisingly simple to make great-tasting cannabis candy. All you need is a few simple ingredients for most of the recipes, and you'll be able to whip up some marijuana-infused sweet treats for grown-ups in no time.
https://cannaclinic.com/wp-content/uploads/2023/10/kym-mackinnon-AEREGo3RQUE-unsplash-min.jpg
558
900
cannaclinicam-seo
https://cannaclinic.com/wp-content/uploads/2022/02/SouthBayCannaClinic-Logo-300x125.png
cannaclinicam-seo
2023-10-08 22:52:59
2023-10-08 23:43:18
How to Make Cannabis Candy for a Fun Adult Halloween