Dark and decadent or rich and creamy, chocolate can ease a sweet tooth and soothe the soul. There are so many ways to consume the delightful flavor. One of our favorite ways to enjoy the rich flavors of chocolate is in a chocolate cake. With every mouthful, you can revel in the sweet richness.
On January 27th, you can indulge without the guilt for National Chocolate Cake Day! It's a day to be celebrated with all things chocolate cake. Although we don't know the origin of the holiday, the dessert began in the 1700s when they discovered that grinding cocoa beans produced cocoa powder. From there, inquisitive souls took the cocoa powder and turned it into a worldwide threat.
What could be more delectable than a chocolate cake?
How about a cannabis-infused chocolate cake? It's as easy as making a regular cake. A simple way to make marijuana edibles is to swap out regular ingredients with cannabis-infused ones, such as oils and butter. Go easy on the amount of marijuana you put in the recipe. A little bit goes a long way.
Cannabis-infused oils and butter are easy to make. Before you can make either, you have to decarboxylate your marijuana, also known as decarbing. This means your weed has to be baked to release the active compounds, including THC and CBD.
To Decarb Your Marijuana:
Preheat oven to 220° F
Spread about ½ ounce of finely chopped cannabis evenly onto a baking sheet or a glass baking dish
Bake for approximately 30 to 40 minutes, turning occasionally to prevent burning
The process is done when the buds have turned from a bright green to a darker brownish-green
Here's a simple cannabis-infused oil or cannabutter recipe:
Ingredients:
1 ½ cup water
8 ounces melted butter or oil
½ ounce decarboxylated marijuana
You'll also need a medium saucepan, a wooden spoon, a cooking thermometer, cheesecloths, and a container for your cannabutter or cannabis-infused oil.
Place the water and butter or oil in the medium pan and cook over very low heat
When the butter has melted, or the oil has heated, add the decarbed weed.
Mix well and gently simmer for approximately four hours, stirring frequently
Make sure the mixture doesn't exceed 180 ° F
When the mixture has simmered for four hours, remove from heat and carefully strain through the cheesecloth into a container.
For the perfect way to celebrate Chocolate Cake Day, try our cannabis-infused chocolate cake recipe. Top your weed cake with a mouth-watering chocolate buttercream frosting, made with marijuana, of course.
You'll need a mixing bowl large enough for all the cannabis cake ingredients, and a hand mixer or wooden spoon. For your frosting, you'll need a medium bowl and a flat knife or spatula. Grease and flour two 9 inch baking pans and set aside. Preheat your oven to 350 ° F.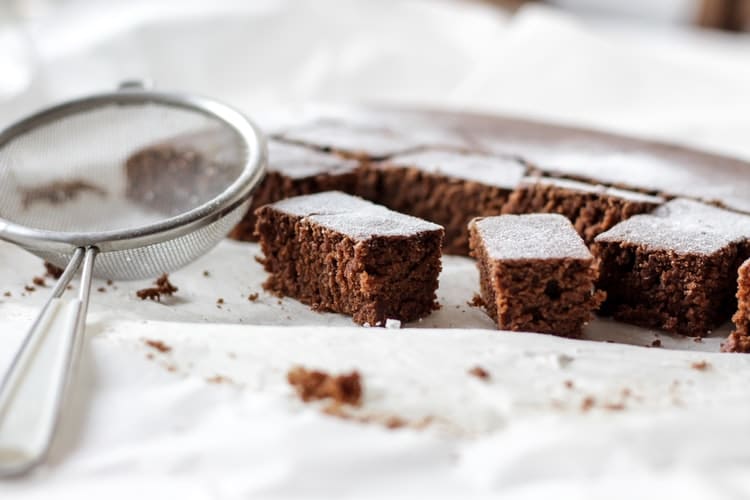 Ingredients for Your Cannabis Cake:
2 cups white sugar
1 ¾ cups all-purpose flour
¾ cup unsweetened cocoa powder
1 ½ teaspoons baking powder
1 ½ teaspoons baking soda
1 teaspoon salt
2 large eggs
1 cup milk (warm water or coffee)
½ cup cannabis-infused oil
2 teaspoons vanilla
1 cup boiling water
In your large mixing bowl, combine sugar, all-purpose flour, unsweetened cocoa, baking soda, baking powder, and salt.
Add the eggs to the mixture.
Pour in the milk, cannabis-infused oil, and vanilla.
Mix all ingredients for two minutes until well-blended.
Stir in the boiling water until the butter is smooth and creamy.
Divide the batter evenly between the two pans.
Bake for 30 to 35 minutes or until a toothpick inserted into the center of the cakes comes out clean.
Set aside and let cool
Chocolate Buttercream Frosting Recipe:
1/4 cup softened cannabutter
1 teaspoon vanilla extract
3 1/2 cups powdered sugar
½ cup of cocoa powder
1/3 cup milk
In a medium bowl, combine your cannabutter and vanilla.
Mix in powdered sugar, cocoa powder, and milk until creamy and smooth
Add more powdered sugar to thicken or milk to thin out.
Once your layers are cool to the touch, gently remove them from the pans. Place one topside down on a plate.
Add a layer of frosting. Carefully place the other layer on the frosting. With a flat knife, smooth frosting over the cake. Voila! Your weed cake masterpiece is done!
Known for its love of weed, California has a wide variety of places to obtain quality products. For the best cannabis dispensary, Torrance is the hottest spot for all things marijuana.
https://cannaclinic.com/wp-content/uploads/2020/01/photo-1498602679121-1adc04bd257f.jpg
500
775
Supportadmin
https://cannaclinic.com/wp-content/uploads/2022/02/SouthBayCannaClinic-Logo-300x125.png
Supportadmin
2020-01-05 12:34:51
2023-01-11 07:01:47
Marijuana Cake Recipe for Chocolate Cake Day